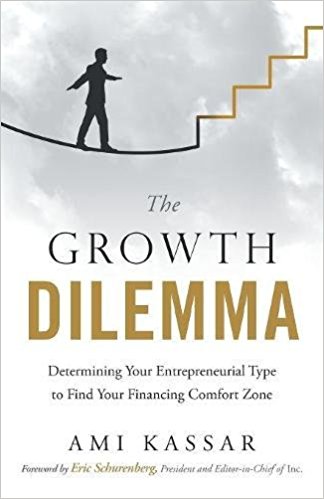 The Growth Dilemma: Determining Your Entrepreneurial Type to Find Your Financing Comfort Zone
Author: Ami Kassar
AMAZON BEST SELLER IN FINANCIAL RISK MANAGEMENT
Where are you in your business journey?
Most entrepreneurs are looking for ways to push their companies to grow and get bigger. But they struggle with decisions about how big they want to become, how much money to keep investing in their company, and how to even go about it. They want more, but they're not sure how to think about the problems, obligations, and risk that come with growth. This is the growth dilemma.
In The Growth Dilemma, Ami Kassar, author and nationally renowned expert on access to capital for entrepreneurs, shows you how to sort through your choices to build your business to the size and complexity that makes the most sense for you. He'll walk you through exercises that help you:
* Answer the crucial million-dollar question
* Figure out what entrepreneurial stage you're in
* Determine your personal risk profile
* Identify your own growth aspirations
Knowing these parts of your puzzle will not only influence how you think about your growth dilemma but also allow you to discover your financing comfort zone. Through the profiles of fifteen real entrepreneurs and companies, you'll also be able to see, throughout the book, examples of how different financing decisions affect every kind of business. As you apply the strategies you learn, you'll find the financing structure that will help you reach your goals.