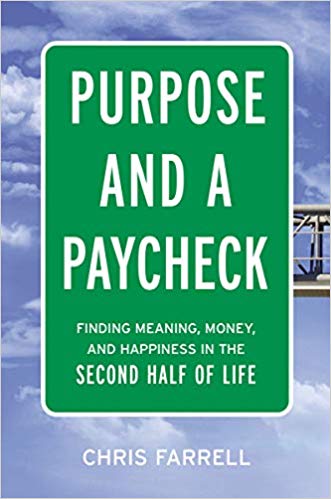 Purpose and a Paycheck Finding Meaning, Money, and Happiness in the Second Half of Life
Author: Chris Farrell
Whether you're a corporate executive, business owner, policymaker, or moving into the later season of your career, the stakes for America's aging population are high. People 65 and older will account for 20 percent of the population in 2030, up from 13 percent in 2000. Many prognosticators blame the aging population for the stagnating economy, citing that as more and more people retire, they will stop working as relatively fewer working people have to support growing numbers of dependent elderly. Purpose and a Paycheck debunks this line of thought by showing how a growing movement of elderly entrepreneurs and part time workers are creating conditions for a stronger and more vibrant economy.
Growing numbers of Americans are no longer retiring in the traditional sense. The numbers are striking and largely unappreciated. Over 25 percent of new business ventures in 2016 were started by the 55-to-64-year-old age group, up from 14.8 percent in 1996. People in their 50s and 60s are launching new businesses at nearly twice the rate of people in their 20s.
America's aging society and workforce is redefining work for all generations and is among the most significant long-term forces shaping the U.S. economy and society, alongside globalization, automation and climate change. Instead of an economic deadweight, America's aging population holds the promise of getting back the economy mojo. Reframing aging will result in faster rates of economic growth and higher living standards for all of us in addition to a more fulfilling and financially secure second half of life for our aging population.